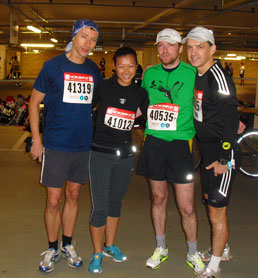 24.10.2010 12. Morgenpost Dresden Marathon "Dresdner Trolle" got inter-national - Bernd, Gerald, Christian, Roman, Zenon and Caitlyn from Chicago built our team for the 12. Dresden Marathon; Roman ran his perso-nal best time (3h05) and left the others far behind - Christian (3h18), Bernd (3h30), Gerald (3h44), Zenon (3h48), Caitlyn (4h02) Not only we run all over the world (in more than 50 countries so far - s. Statistik) but now we also have - at least for one race - an international member in our team - Caitlyn from Chicago (Photo).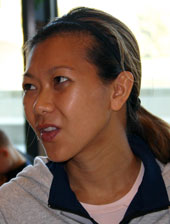 We met her yesterday at the Marathon Fair in the Congress Centre during the "Pasta Party" (photo). It was quite full; she was standing alone at a table. "Können wir uns dazu stellen" - Gerald asked. "Or sorry, I do not speak German" - she answered. "No problem". We switched to English and learned that tomorrow it will be the 11th Marathon race for Caitlyn and her 2nd "Country Point" ("Laenderpunkt"). So far she ran marathons only in the USA - e. g. in San Francisco, New York and 14 days ago also in her hometown Chicago. Compared with the Chicago Marathon is Dresden with its 1500 participants (full marathon) just a small race. "But still - it is well organized, has a nice course and a good atmosphere" - we say. "Which club do you run for?". "Oh, I'm not in a club, I just run for myself, just for fun". "O.K. so maybe you could join us.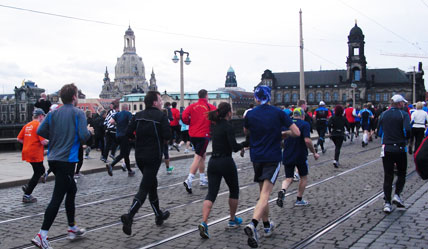 We'll be 5 Trolls running tomorrow but for a team we still need a women". "Why not, I can do it but do not expect me to be very fast. I'll finish after 4h or so. "That's o.k., no problem".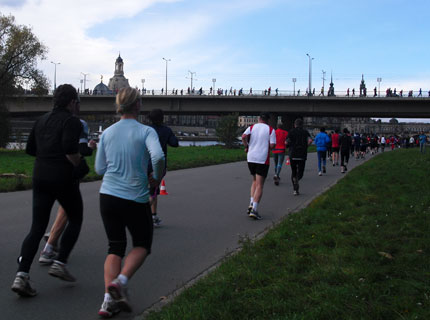 Today morning we met at 9:30 am. Caitlyn, Gerald and me - we started from the 4h-block. Roman wanted to join us too but I sent him to the head of the race. "You are to be our best and you have a mission to fulfill; you must not loose time at the beginning".